INTRODUCING VALLEY HOUSE NURSERY
Welcome to Valley House Nursery! We are a friendly nursery located on Bell Green Road just off the A444. We are conveniently located close to the city centre and the M6 motorway.
Our nursery has been graded good in all areas by OFSTED, and continue to build on this success. You can read a copy of the report HERE.
Tax Free Childcare Nursery
Valley House is registered for tax free childcare, accept childcare vouchers and offer 15 and 30 hour government funded places. We do not charge top up fees for funded places. Please contact us to discuss availability.
We offer child centered learning in our excellent facility. We have large areas for free play, an excellent outdoor learning environment with an outdoor classroom, and dedicated teaching areas to help children get school ready. We have designated quiet areas and a sensory area. Children have access to ICT equipment and we are able to loan books from the local library to our learners.
Our staff are experienced, highly qualified and passionate about Early Years Education. Activities and resources at Valley House Nursery reflect our culturally diverse community.
You can see some of our day-to-day learning by visiting our Facebook page. https://www.facebook.com/TheNurseryAtValleyHouse/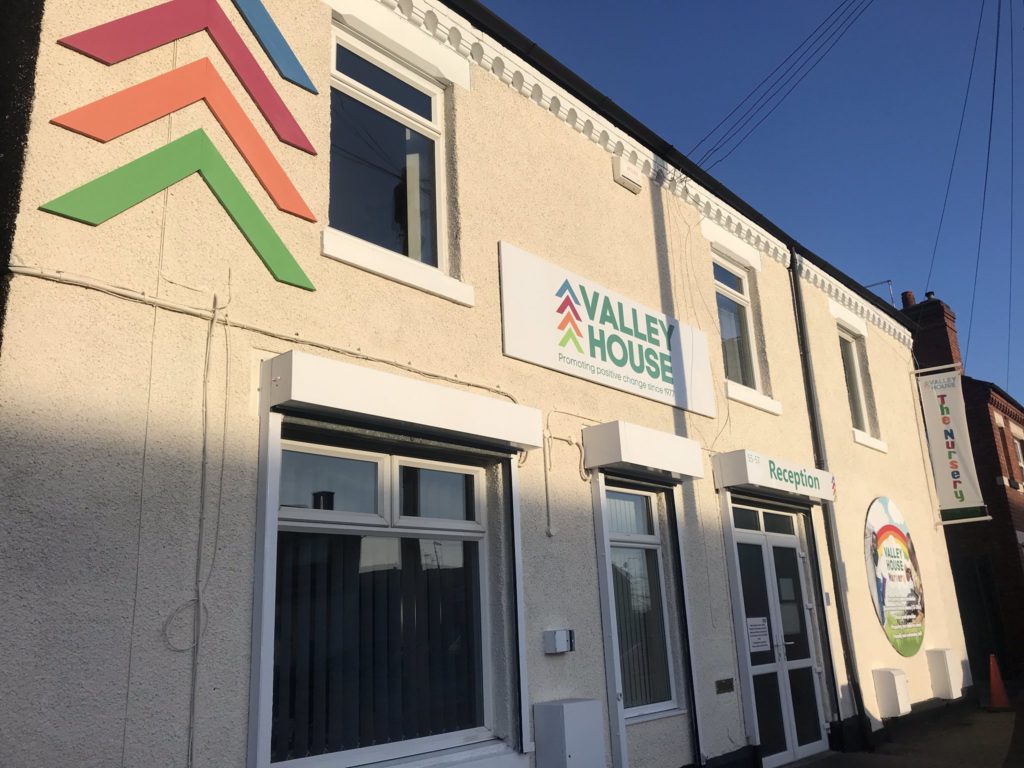 The Nursery provides a friendly, welcoming and safe environment for your child, ensuring they feel relaxed and happy whilst being cared for by our experienced team.
Nursery staff
Staff are experienced, highly qualified and passionate about Early Years Education. Activities and resources at Valley House Nursery reflect our culturally diverse community.
Learning through play
Our qualified staff are passionate about providing the best opportunities for children to learn, play and have fun! We have a wide range of specialist learning resources for your child to enjoy. Our experienced staff members will help your child use these resources to develop new skills and increase their confidence. At our core, we believe that learning should be fun; our staff are dedicated to creating engaging and creative activities that facilitate high quality learning.
Diversity
We value diversity. Our staff team reflects and represents the diverse, cultural community of Coventry and the families who use our services. Everyone is welcome at The Nursery.
Who Can Attend?
The Nursery is an independent childcare centre in Coventry. We accept children aged from six weeks to five years old. We also run a holiday club during school holidays for ages 5 - 12 years. You do not need a child at the nursery to attend. Please see our events page for more information: www.valleyhousenursery.org.uk/events
We are open Monday to Friday, 8am to 6pm.
We can provide funded sessions between 8am - 6pm, free funded hours are negotiable depending on availability. Viewings of the Nursery are welcome, please contact in advance so we can arrange this.
I am a parent and my 2 children have been coming to this nursery for nearly 4 months. I 100% rate the workers and nursery for a massive improvement in both children. Rocco age 3 now knows all his colour and his language and speech has come on 10% and he has learnt to share…
More
Play is the key to a child's learning and development. Our curriculum aims to promote the emotional, social, spiritual, intellectual and physical enrichment of your child. We provide a wide range of equipment and materials which are carefully chosen to reflect the development needs of children in our care. The Nursery will incorporate Reggio and Montessori methods of learning which provides self-learning with qualified Early Years Workers.
Aims:
Create a child centered environment which children are free to explore, experiment, create, imagine, interact and ultimately to learn through the medium of play.
Enhance the quality of play through supply of adequate and suitable human and material resources and supportive interventions
Balance opportunities for free and structured play in alignment with the age and developmental needs of children in our care.
Evaluate each child's learning outcomes and implement remedial processes when required.
Procedure:
We work within the guidelines of EYFS and incorporates a range of activities devised in response to the age, developmental needs, abilities, interests and cultural influences of children attending our service.
Play activities are designed to reflect our changing society and to promote interest, inclusiveness and positivist.
Our play environments are structured to create a number of special interest areas which are appropriate to the age and developmental needs of each child.
Activity programs allow opportunity for free and structured play and for flexibility and responsiveness to the needs of children.
We encourage balance between child/staff initiated activities.
Equipment is quality approved, age-appropriate and chosen in response to the holistic learning requirement of children in each group.
Play and educational equipment is maintained in a safe and hygienic manner.
Equipment is stored safely and is accessible to all children.
All children attending our service will have daily access to our safe, supervised and equipped outdoor play area.
Curricular activities include opportunities for:
Expressive art and design
Constructive Play
Imaginative Play
Sensory Play
Physical Play
Outdoor Play
Group and Individual Play
Free & Structured Play